Hellman 106. Online Auktion
---
Auktionstermin: 1. Dezember 2017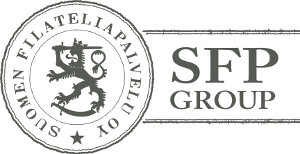 Philatelic Service of Finland Ltd
PL 5
FI-20251 Turku
FINLAND

Tel. +358 400 484 737
Fax. +358 2 2547220

instagram: @hellmanhuutokaupat
twitter: @SFPhuutokaupat
Zahlungsmöglichkeiten:
Hellman 106. Online Auktion
---
Freitag 01.12.2017
Los von
Los bis
Anfangszeit

EET

1
1164
18:00

EET

1165
2003
20:00

EET
×
Philatelic Service of Finland
×
Auktionsregeln
Gebote:
Auktionsgebote können im Voraus schriftlich per Briefpost, Fax oder E-Mail abgegeben werden oder auf unserer Website www.filateliapalvelu.com. Vertraute Kunden können Ihr Gebot auch telefonisch abgeben. Wir behalten uns das Recht vor, Gebote ohne Angabe von Gründen abzulehnen oder entsprechende Sicherheiten zu fordern. Die Artikel sind solange Eigentum der Verkäufer, bis sie in voller Höhe bezahlt sind. Dem Zuschlagpreis wird eine Provision von 22 % hinzu berechnet, die der Käufer zahlt.
In der Gebotsauktion von Philatelic Service of Finland Ltd wird der Artikel an den Meistbietenden zum zweithöchsten Angebotspreis + 10 % bzw. zum eigenen Angebotspreis verkauft, soweit dieser niedriger ist. Beispiel: Herr A bietet für einen Artikel 50.-, Frau D 70.- und der leidenschaftliche Sammler K 100.-. Den Zuschlag erhält der Sammler K zum Preis von 70,00 + 10 % = 77,00 + 22 % Provision = 93,90 Euro. Bei gleich hohen Geboten erhält das zuerst eingegangene den Zuschlag. Wenn nur ein Gebot abgegeben wurde, erhält der Bieter den Artikel zum Mindestpreis + 22 % Provision. Wir behalten uns das Recht vor, Gebote ohne Angabe von Gründen abzulehnen oder entsprechende Sicherheiten zu fordern. Erhöhungsschritt ist 50 Cent!
Nähere Anleitungen und Regeln der Online-Auktion finden Sie unter "Hilfe". Machen Sie sich vor Ihrem Gebot mit unseren Geschäftsbedingungen vertraut, die sie mit Abgabe des Gebots akzeptieren.
Provision:
Auf den Zuschlagpreis werden dem erfolgreichen Bieter 22 % Provision hinzuberechnet.
Versand:
Neuen Kunden werden die Artikel per Nachnahme geliefert. Wertvolle Objekte werden eingeschrieben und gegebenenfalls versichert versandt. Für die Lieferung werden eine Bearbeitungspauschale von 5 Euro sowie Versandkosten berechnet. Der Versandt erfolgt nach Auktionsschluss so schnell wie möglich.
Anfragen zum Versand sind spätestens 2 Tage vor Eingangsschluss für das schriftliche Gebot an uns zu richten. Die Artikel können schneller versandt werden, wenn weniger Zeit für andere Angelegenheiten aufgewendet werden muss.
Zahlungen und eventuelle Anmerkungen müssen innerhalb einer Woche ab Empfang der Artikel erfolgen. Entsprechend international üblichem Gebrauch gibt es für Sammlungen und Partien kein Rückgaberecht, weshalb für die meisten Partien und Sammlungen Startpreise festgelegt werden, die im Verhältnis zu deren Katalogpreisen um ein Vielfaches niedriger sind. Die Sammlungen und Partien enthalten stets sowohl gute als auch schlechte Stücke. Wir empfehlen Bietern daher, sich stets mit den Artikeln im Voraus vertraut zu machen. Bei der Rückgabe einzelner Stücke muss immer der Grund, die Kundennummer und die Referenznummer der Rechnung angegeben werden. Die Artikel sind so lange Eigentum des Verkäufers, bis sie in voller Höhe bezahlt worden sind.
×
Hellman 106. Online Auktion
---
Auktionstermin: 1. Dezember 2017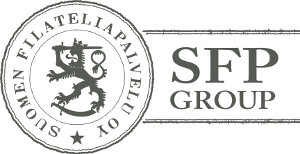 Philatelic Service of Finland Ltd
PL 5
FI-20251 Turku
FINLAND

Tel. +358 400 484 737
Fax. +358 2 2547220

instagram: @hellmanhuutokaupat
twitter: @SFPhuutokaupat
Zahlungsmöglichkeiten: