Historisches Wertpapierhaus AG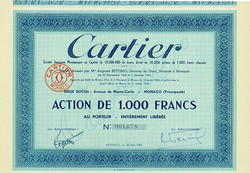 Cartier Société Anoynme Monégasque, Nominal 1.000 Francs.
Monaco,...更多
Cartier Société Anoynme Monégasque, Nominal 1.000 Francs.
Monaco, 20 May 1943, Share of 1,000 Francs, #1678, 19.7 x 27.8 cm, blue, turquoise, coupons.

The company opened a subsidiarry in Monaco during the World War II. We have no idea, why they opened the subsidiarry at this time. The company is part of Swiss Group Richemont nowadays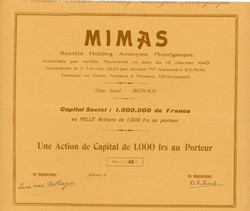 Mimas Société Holding Anonyme Monégasque, Nominal...更多
Mimas Société Holding Anonyme Monégasque, Nominal 1.000 Francs.
Monaco, without date, ca. 12 January 1943, Action de 1,000 Francs, #46, 23.6 x 27.8 cm, brown, red-brown, coupons, small tear, only 1,000 certificates issued.

The company was founded during World War II in 1943. Monaco was used to launder huge amounts of money from Nazis and their supporters. Therefore more than 300 companies were founded in Monaco at this time.
當前時間: Wednesday October 28th 2020 - 07:23 MET