Teutoburger Münzauktion GmbH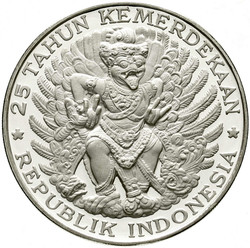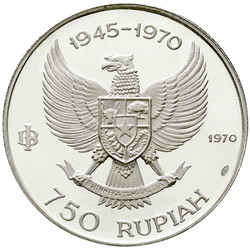 750 Rupien, Silber 1970. 25 Jahre Unabhängigkeit,...more
750 Rupien, Silber 1970. 25 Jahre Unabhängigkeit, Mythischer Vogel
Garuda. Polierte Platte

Automatically generated translation:
750 Rupee, silver 1970.25 years independence, mythical bird Garuda. Proof coinage
Teutoburger Münzauktion GmbH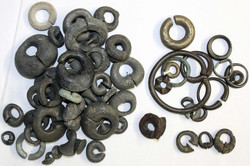 Konvolut Ringgeld ("Kelok") aus Bronze, Blei und Zinn....more
Konvolut Ringgeld ("Kelok") aus Bronze, Blei und Zinn. 58 Stück.
Nach Angaben des Einlieferers stammen diese Stücke aus Ausgrabungen
in der Nähe von Solo (Java) und wurden zusammen mit Cashs der
chinesischen Südl. Song-Dynastie gefunden, was eine Vergrabungszeit
im Zeitraum ca. 1127-1279 vermuten lässt. Köhler-Osbahr vermutete
deren Ursprung in Thailand im Lavapura-Reich um 1050/1350. Ähnliche
Stücke wurden auch in Sawankhalok, Thailand, gefunden (vgl.
Mitchiner NIS Nr. 2610-2616). Von den vorliegenden Exemplaren sind
einige Formen anscheinend bisher unpubliziert. Besichtigen!

Automatically generated translation:
Mixed lot ring money ("Kelok") brazen, lead and pewter. 58 pieces. According to the owner comes these pieces from excavations close to stand-alone (Java) and were along with Cashs the Chinese southern Song Dynasty found, what a Vergrabungszeit in the period approximate 1127-1279 assume lets. Köhler Osbahr assumed whose origin in Thailand in the Lavapura Reich about 1050 / 1350. Similar pieces were also in Sawankhalok, Thailand, found (comp. Mitchiner NIS no. 2610-2616). From the existing copies are a few form on the face of it so far unpublished. Inspect!
Current Time: Monday January 20th 2020 - 16:03 MET