Auction house Ulrich Felzmann

2 $, Niob, Sonnensystem: 2017 Saturn und 2018 Uranus, mit...more
2 $, Niob, Sonnensystem: 2017 Saturn und 2018 Uranus, mit Etui, Zertifikat und Umkarton, dazu 2013 30 Jahre China Panda, im Etui mit Zertifikat, selten angeboten

Automatically generated translation:
2 $, columbium, solar system: 2017 Saturn and 2018 Uranus, with case, certificate and outer box, in addition to it 2013 30 years China panda, in the case with certificate, rare offered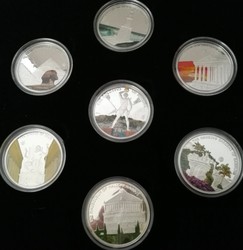 PALAU: 2009, 7x 5 Dollar Silber, Serie "die 7 Weltwunder der Antike",...more
PALAU: 2009, 7x 5 Dollar Silber, Serie "die 7 Weltwunder der Antike", 7 colorierte Münzen je 25gr. in Luxus Holzkassette mit Beschreibungen zu jeder Münze, ansehen!

Automatically generated translation:
PALAU: 2009, 7 x 5 Dollar silver, set "the 7 wonder of the world the antique", 7 colored coins always 25 large in outstanding quality wooden box with descriptions to each coin, have a look!
Current Time: Wednesday December 11th 2019 - 23:13 MET